The Problem
Though educational institutions have implemented green initiatives, students are still not disposing of their trash properly. This can be considered due to laziness, unawareness, and indifference. How might we encourage students to properly dispose of their garbage?
The Solution
Find a way to encourage and make recycling a learning and rewarding experience. Through the TOSS smart device and corresponding app, the user can gain points and save up to obtain discounts at their school or local stores. This further emphasizes gamification and how it can benefit the user in real life.
User Insight
PEOPLE: Students who are technologically savvy. Stressed, tired, and busy. Short attention-span, fast paced.
ACTIVITIES A daily activity. Should be simple and alone.
CONTEXTS: Mostly indoors. Need connectivity. In public and institutional settings.
TECHNOLOGIES: Phone, apps, sensor, scanner.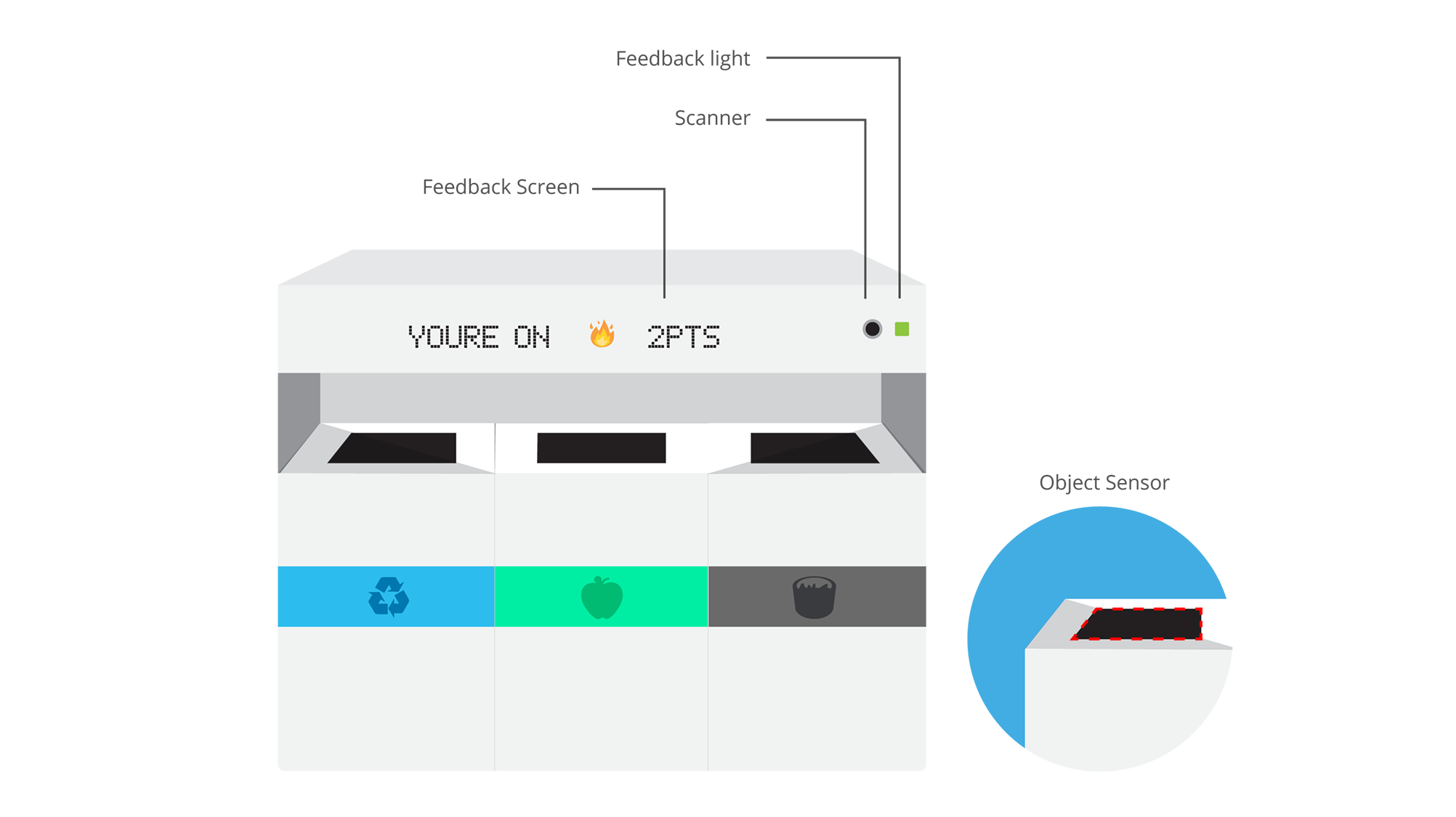 The Smart Device
It works by simply scanning your TOSS Apple Wallet card or QR code to connect your account. Each rim has an object sensor that will detect a dropped object and identify the material of the waste.
A correct toss results in the feedback light flashing green and a "beep" to indicate accuracy. An incorrect toss will result in a red flash and an unpleasant sound.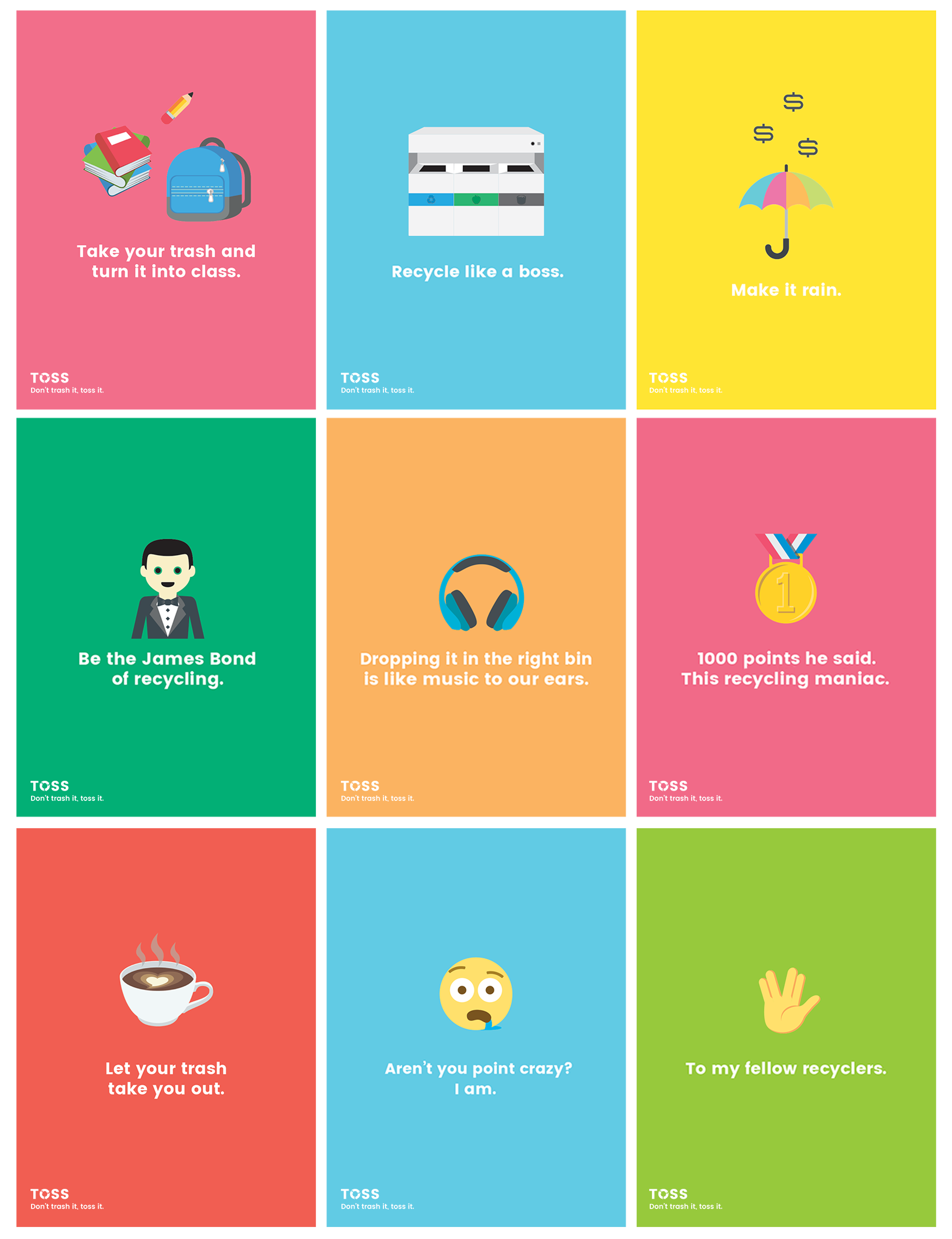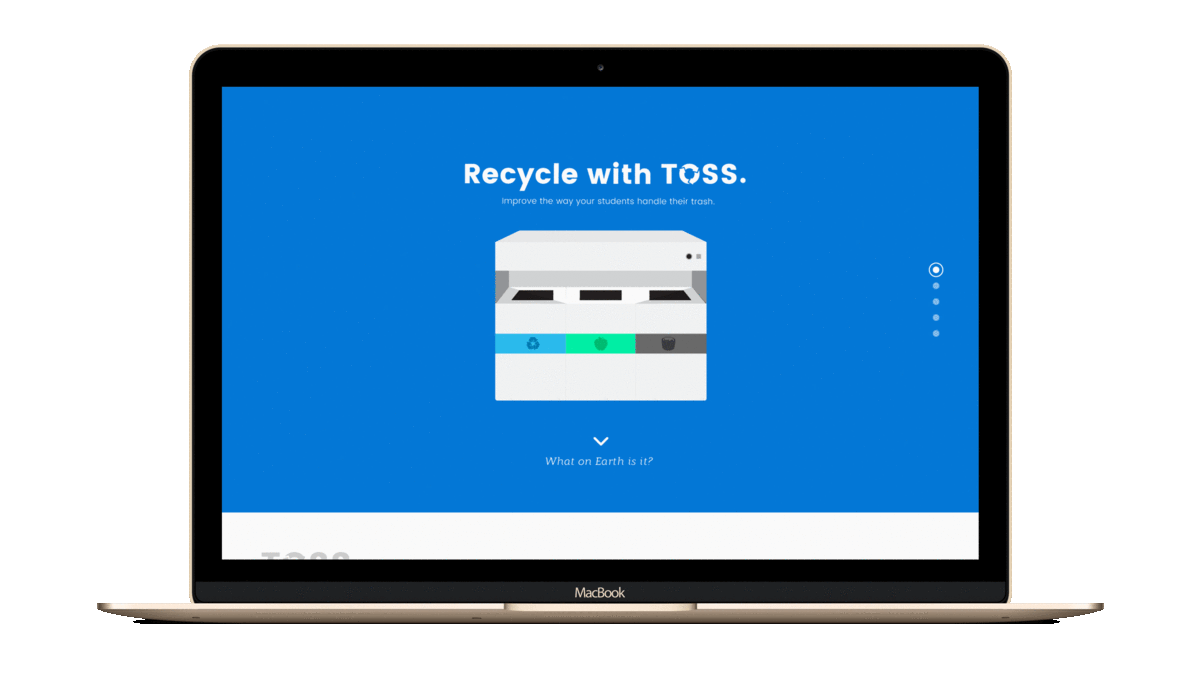 Marketing for Students and Institutions
These poster advertisements target students and aim to generate buzz about the product around campus. Institutions interested in implementing the system can check out our one-page website. It explains how the product works and all the benefits associated with it. You can check out there prototype here.
Creating the App
The biggest obstacle was making the TOSS process as simple and convenient as possible. Throwing away trash is supposed to be mindless. We were worried that adding additional steps would deter students from using the app.
We also explored integration with the Apple Watch as a future implementation.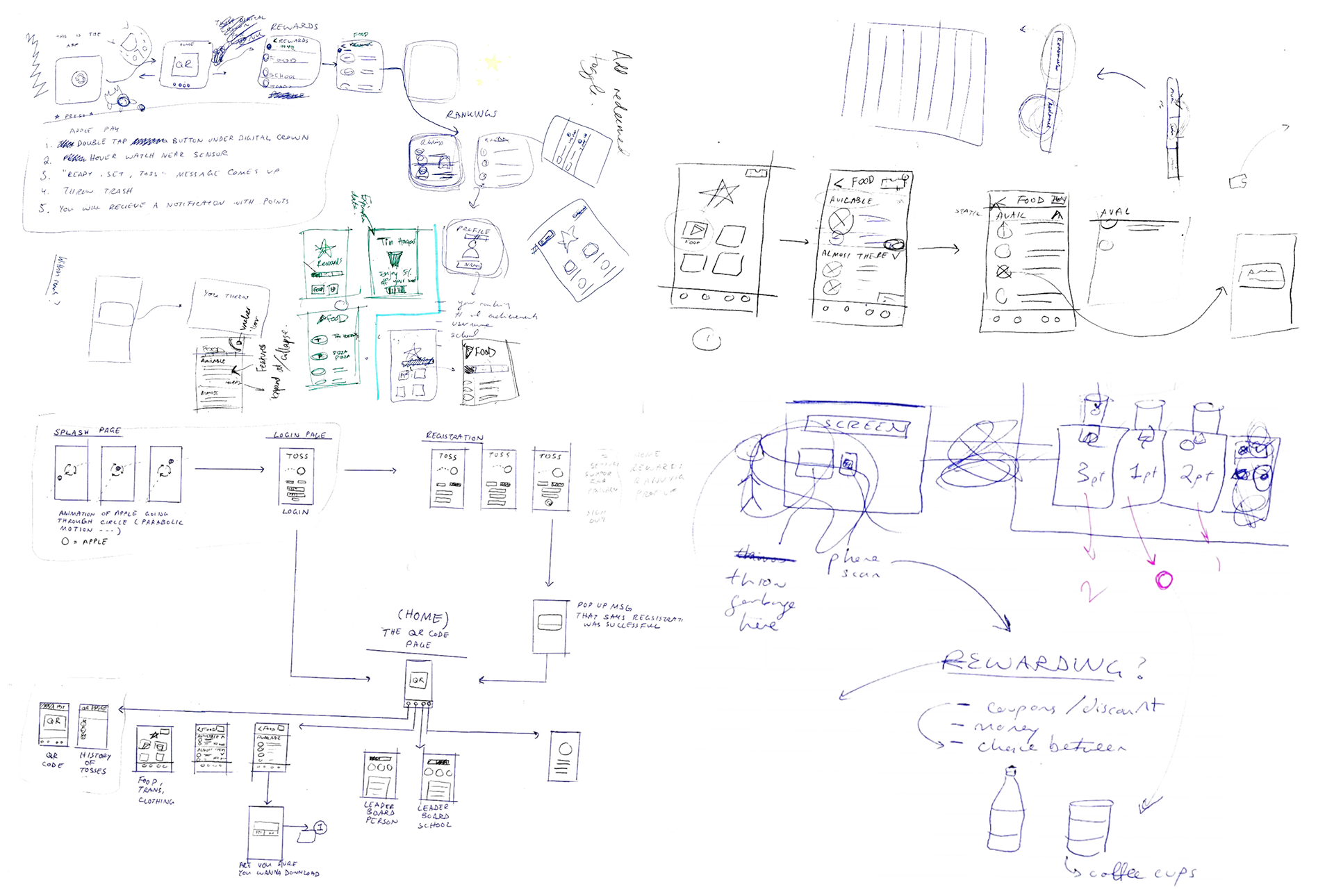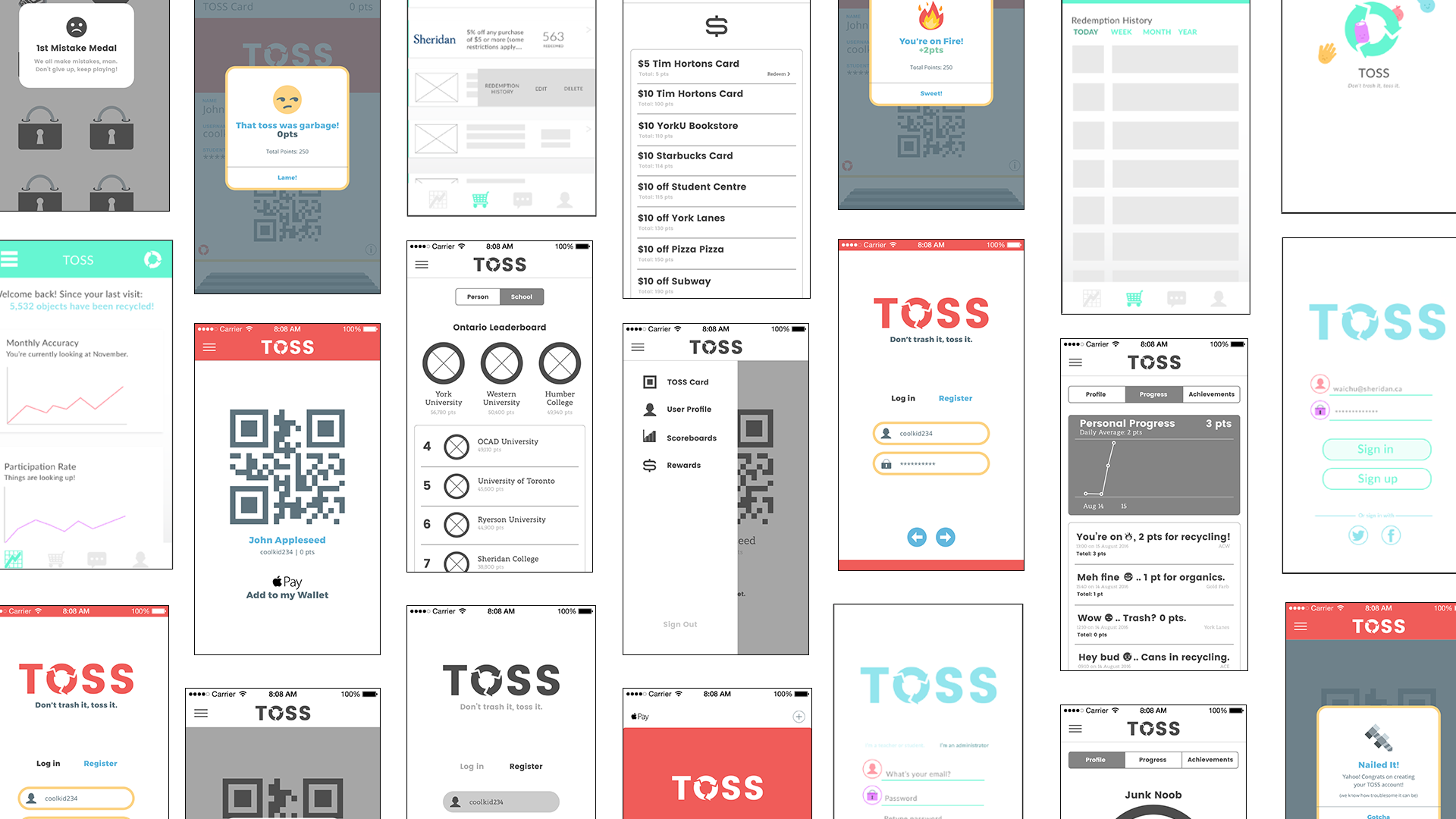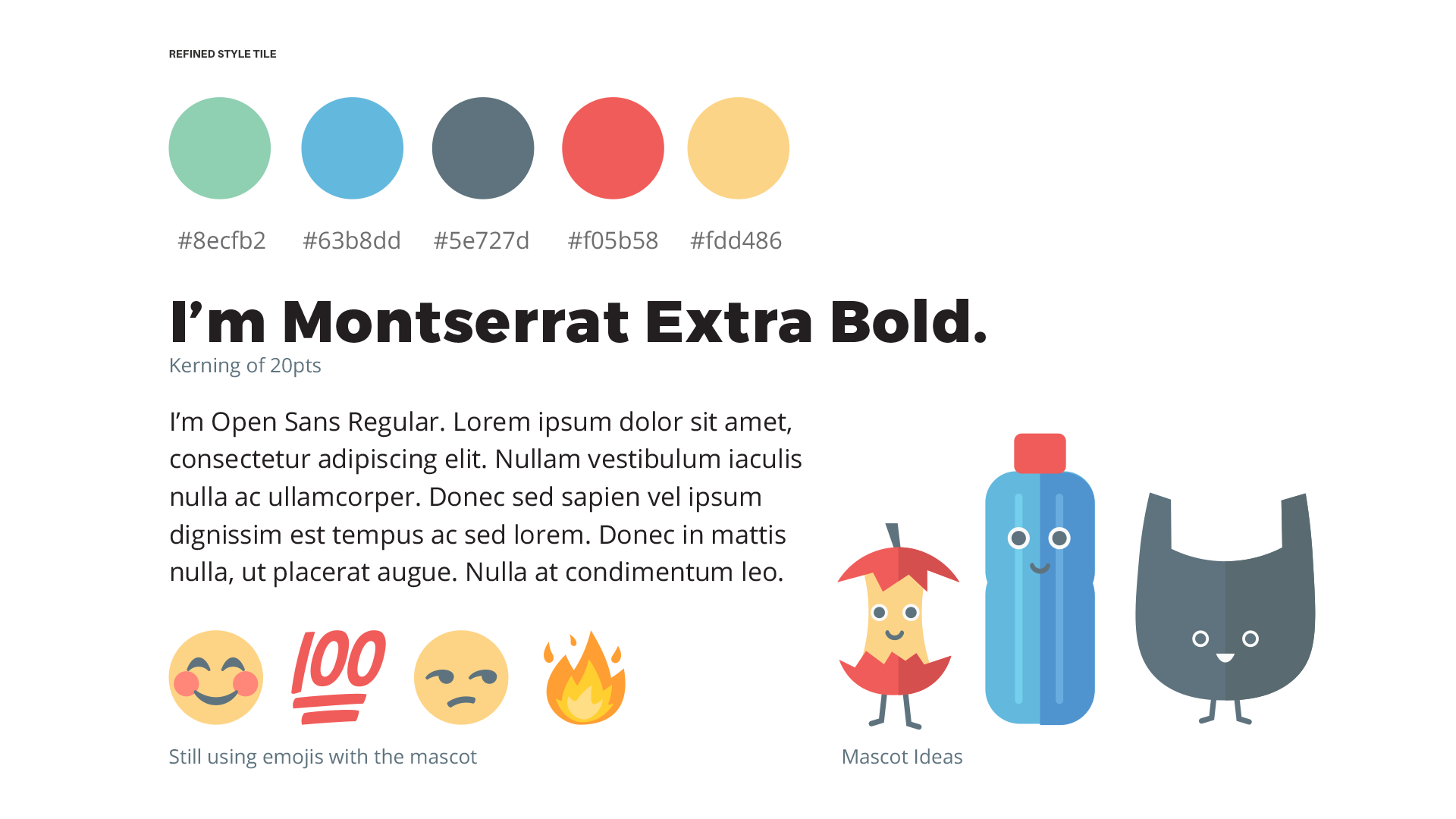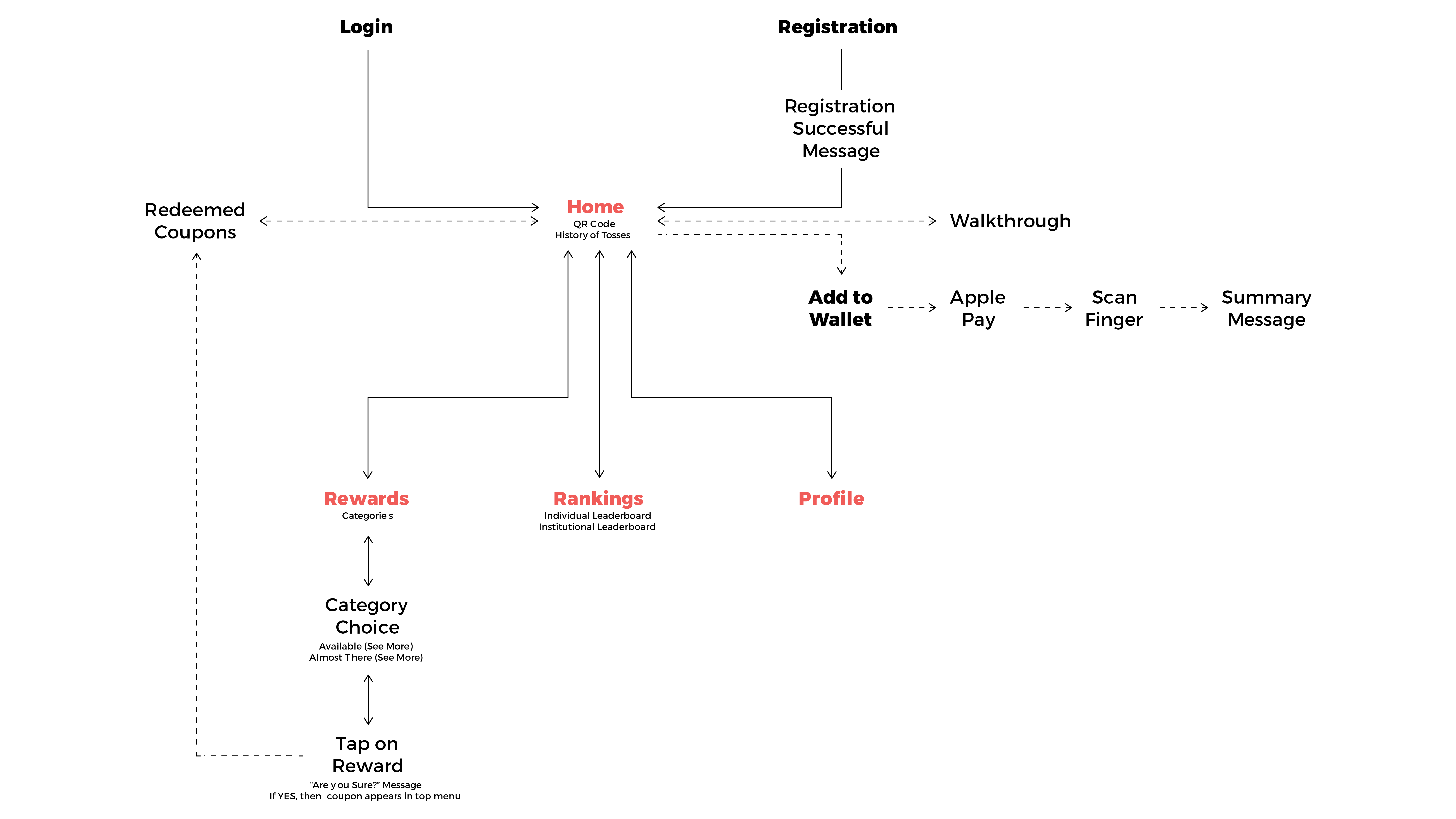 Walkthrough
Upon creating an account using your institution's username and password, TOSS will walk you through the process of tossing and other general information, such as settings and support.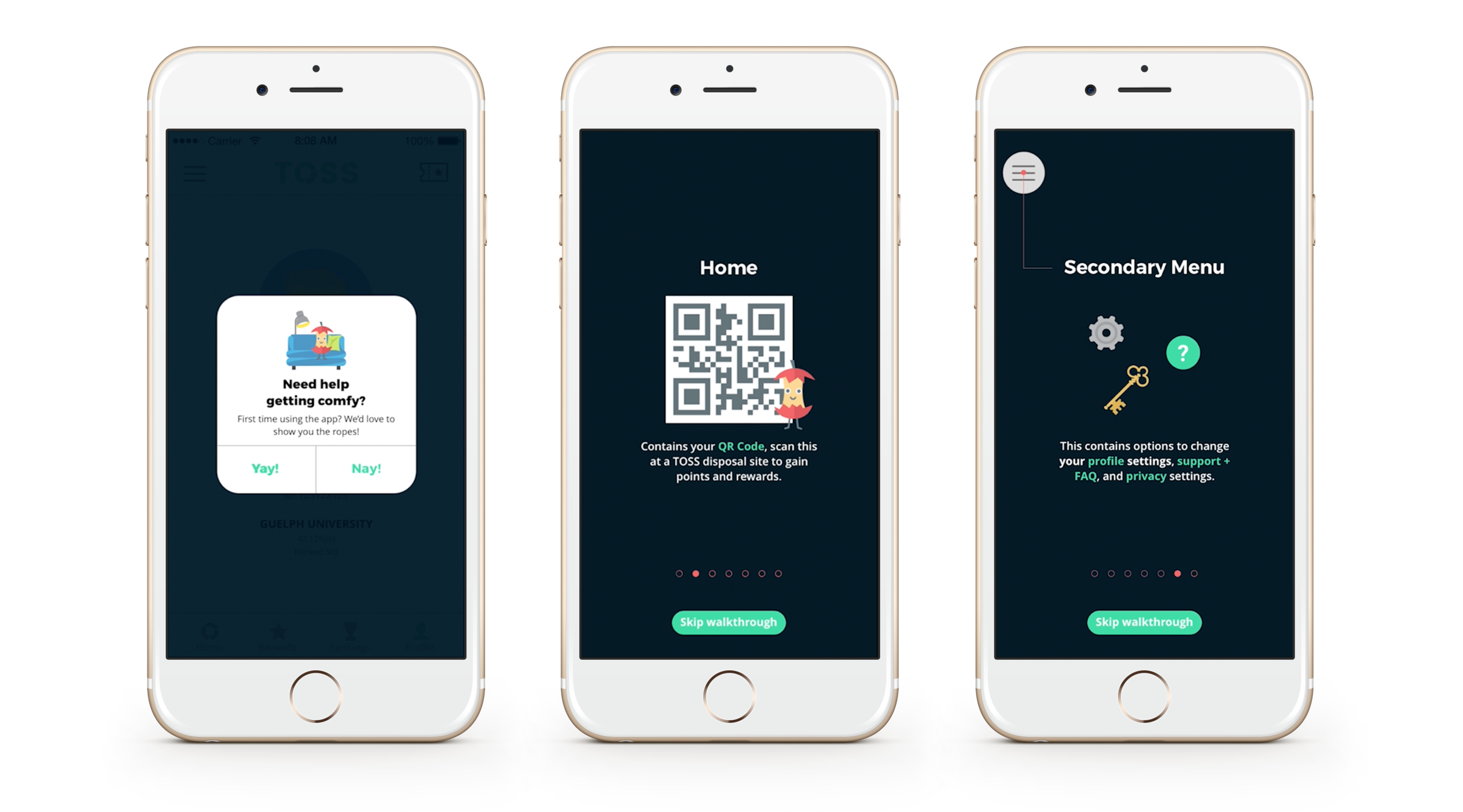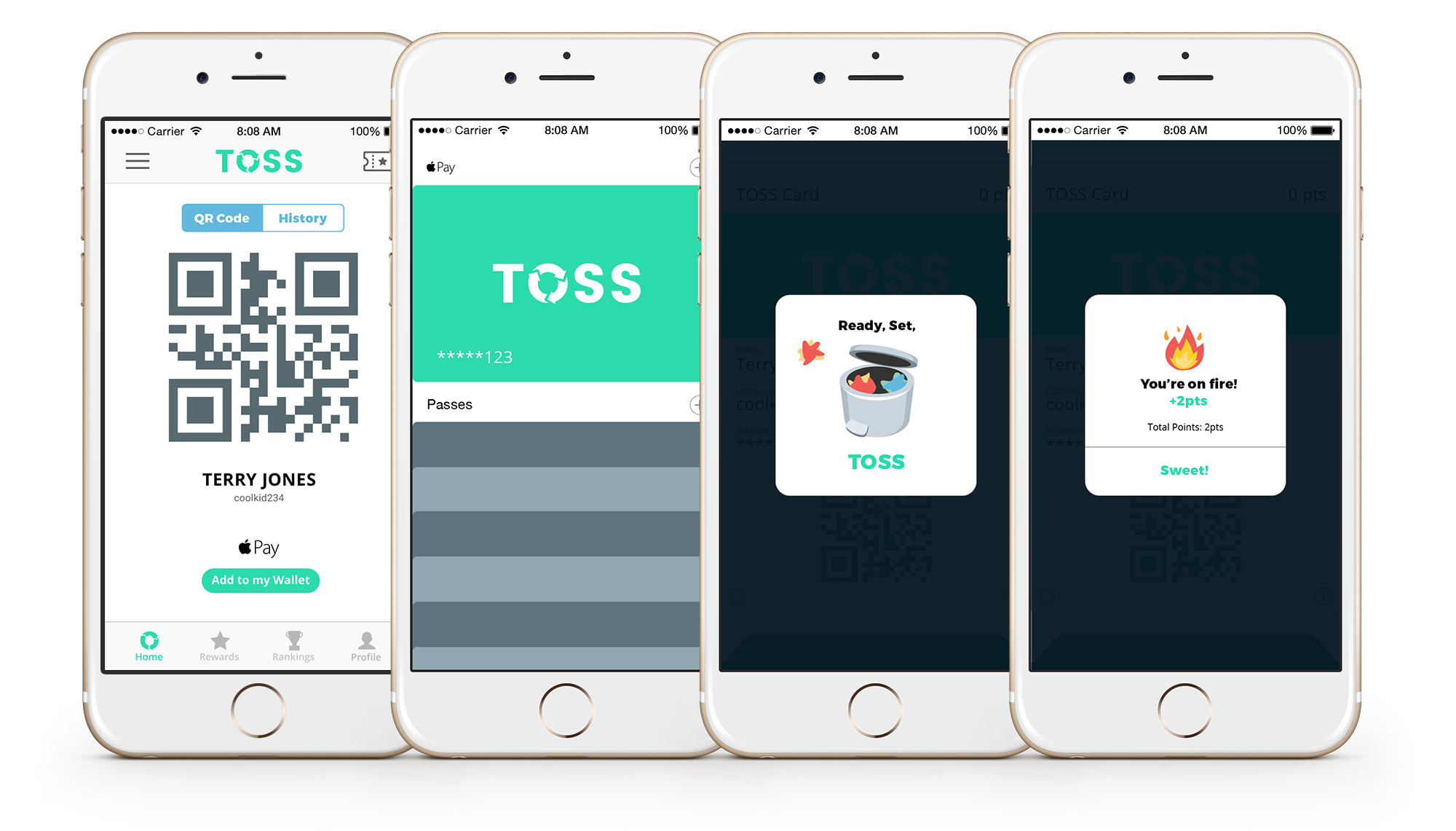 Adding TOSS to your Wallet and Tossing
Add the TOSS card to your wallet. Your phone will let you know when you can begin a toss. It will show you the amount of points earned each toss, along with a general indication of accuracy.
Home Screen
The home screen contains a scannable QR code for non wallet users. You can view the full breakdown of your latest toss. Incorrect objects will be greyed out. A coloured dot on the right indicates the correct category. Scroll down to check out past tosses.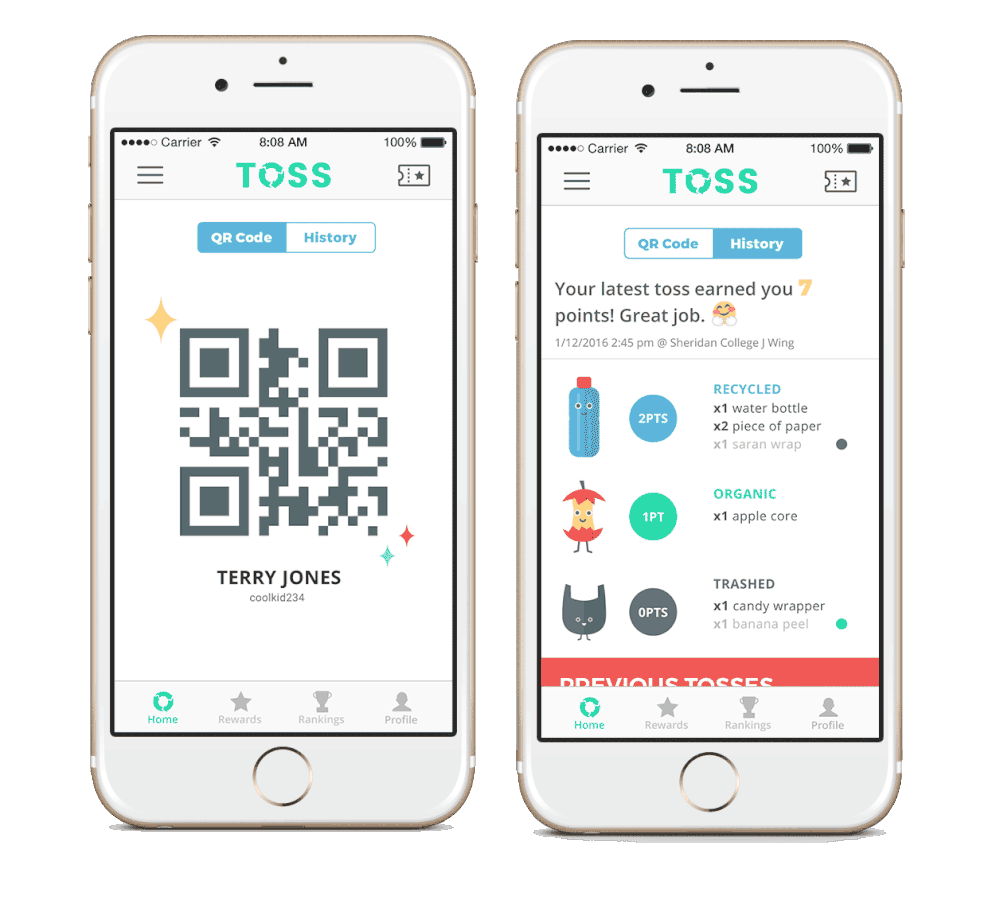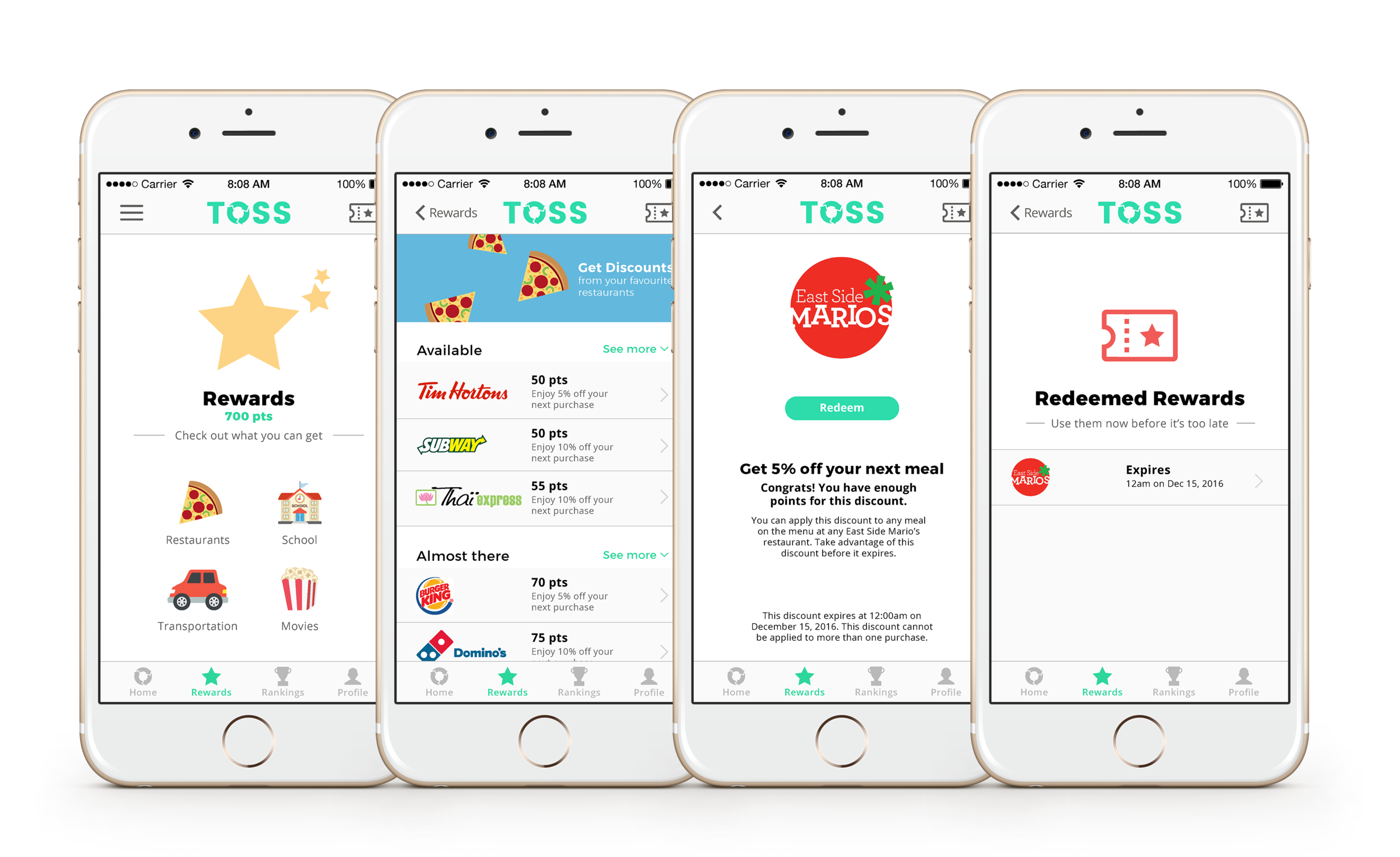 Rewards
Rewards are broken down into two expandable sections: Available and Almost There. After you have redeemed a reward, they will be stored in the "Redeemed Rewards" section accessible on all screens.
Leaderboards
See your individual ranking and your institution's ranking. You can also see how other students or schools are faring.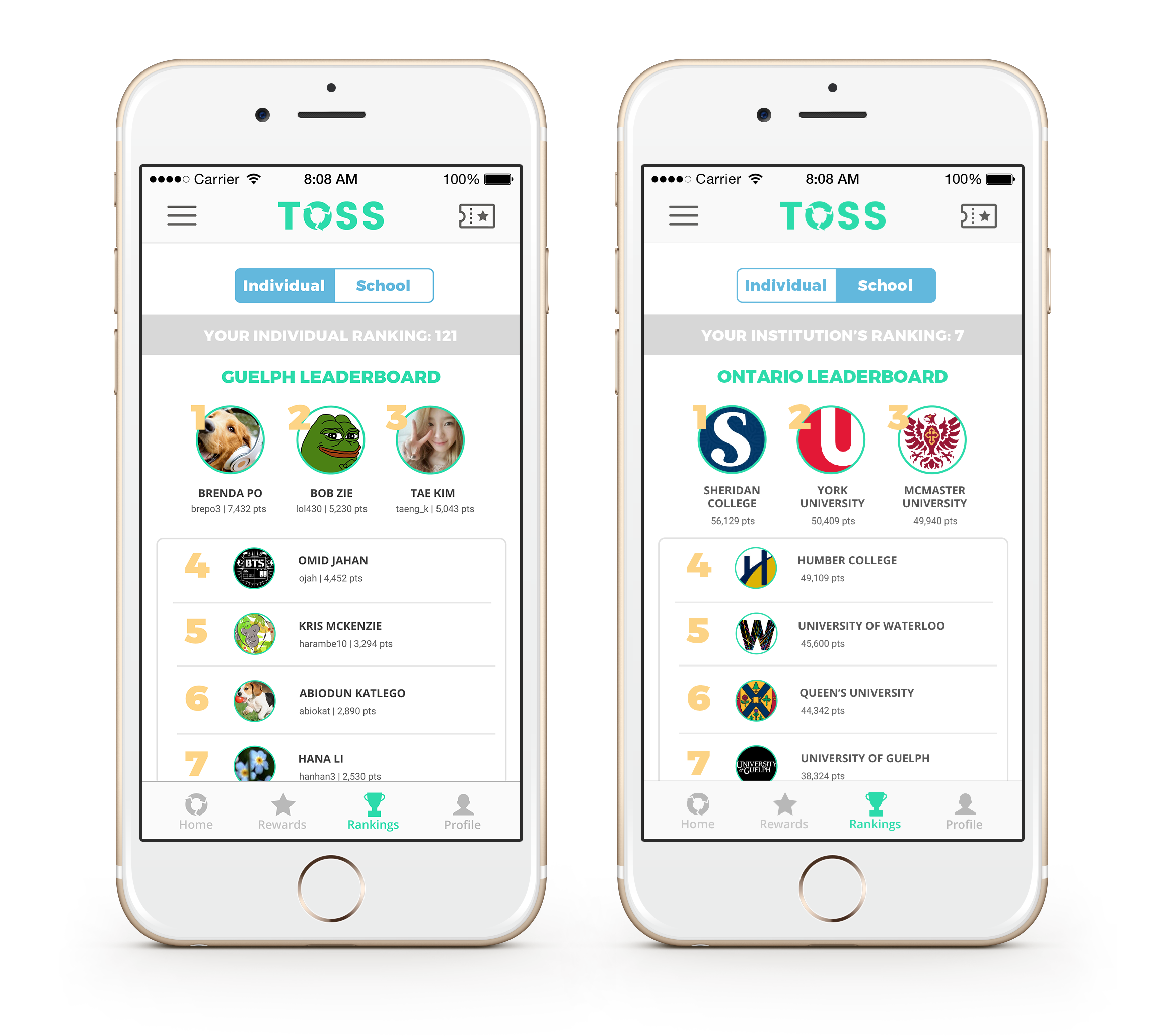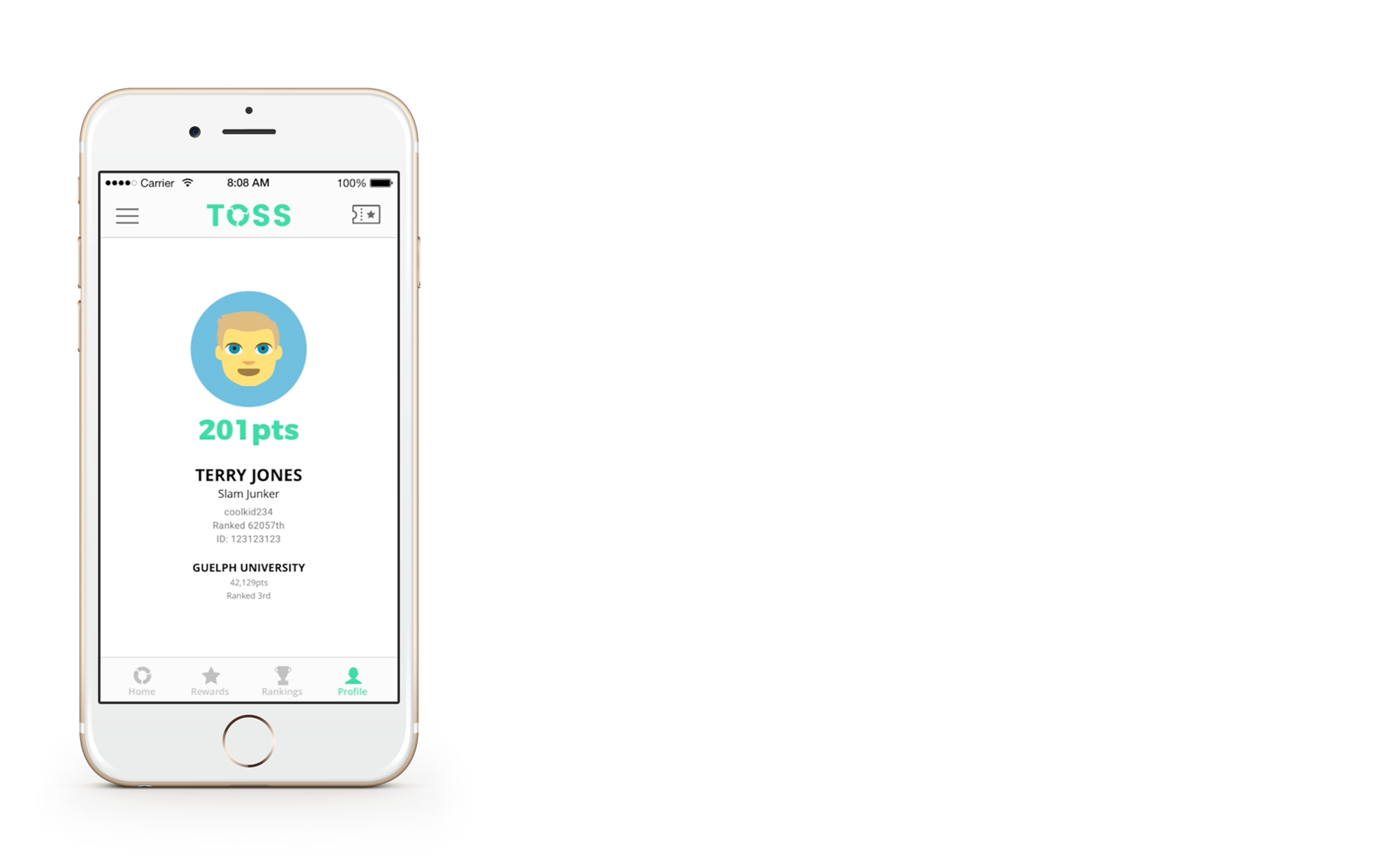 Profile
See a summary which includes your name, title, ID, and rankings.
Future Considerations
I would like to explore the user flow for an administrative/institution mirror application.
Administrators have entirely different needs from students. For example, they need able to view analytics, change rewards, display announcements. This has to be an intuitive process so that schools can essentially run the entire program themselves after purchase.
I would like to refine this scenario in the future by expanding the analytics section and streamlining the reward editing.